Do you know you can brighten the color of your lips and make them look pinky? This is not a chemical approach or any medical treatment. Rather, it is about getting your lips to look pinky naturally.
When a baby is born you can notice the pinky and fresh look of the lips this looks disappears as the baby grows and finally turns to an adult. The root cause of such fade cannot be attributed to one thing rather to multiple factors such as lack of care for the lips, smoking, use of unfriendly facial creams, and lots more.
Normally, we may not know when our lips have gone so dark and need some care because only a few care about the lips. Obviously, negligence contributes to the main cause of dark lips. However, to what extent can dark lips affect your looks? The impact of dark lips on your look may not be noticeable until you try to get pinky lips to see the difference. Some ladies notice different looks from their previous look after changing their lips from dark or bad color to pink. It makes you appear natural and beautiful.
There are many natural ways of changing the bad look of your lips color to its natural pinky color. The list below is the majority of it:
KEEP YOUR LIPS MOIST
Keeping your lips moisture is another way of helping them to retain their color. Dry lips tend to react to environment harsh conditions such as winter conditions. The moister your lips become the more it starts to regain its original pink color. You need to find means of keeping your lips safe from the rays of sunlight during the day by using any of these hydrating balms during the day: cocoa butter, coconut oil, or olive oil. Rubbing any of these can keep your lips moist during the day. Before going to sleep you can apply few drops of petroleum jelly on the lips.
GENTLE BRUSHING
You can help your lips regain their color by using a soft and light brush to brush the lips every morning and evening before going to sleep. Rub the brush gently in a circular motion, this will help to remove the trapped dead cells and will stimulate regular blood flow to the lips thereby helping it to regain its original colors.
USE POMEGRANATE SEEDS
Though you may not see pomegranate seeds easily within Nigeria, you can buy already-made ones for lips lightening. However, if you are opportune to see the seeds of Pomegranate all you need to do is to crush it and mix it with cold milk to produce a thick paste. Apply the paste on the lips. You can repeat this action consistently for over one week to get back your pure pink lips.
KEEP YOUR LIPS INSIDE HYDRATED
The only way you can keep your body hydrated is to drink lots of water or eat lots of fresh fruits regularly. When the body lacks water it will reflect on the lips because even the moisture on the lips tends to disappear quickly. The easier way to prevent your lips from drying up from the inside is to hydrate your body regularly by ensuring you never lack a good water level in your body. You can achieve that by drinking enough water regularly and consuming fresh fruits often. This behavior moist your lips from the inside thereby keeping or helping them retain the outside moist for a long time as well as helping the cells within the region.
REMOVE MAKE-UPS BEFORE GOING TO SLEEP
Some make-ups can be difficult to remove completely within a short time. Some expensive lips stick can stay days on the lips without fading but if you are looking for pinky lips you may not need much makeup rather you need to make up you can remove easily especially every night before going to bed. Though some make-ups equally help to keep the lips moist, allowing them too long may not give a good result besides you actually need to apply petroleum jelly or oil on the lips to take care of the night. Therefore, you need to clean up the makeup and apply something more effective on the lips to care for it throughout the night.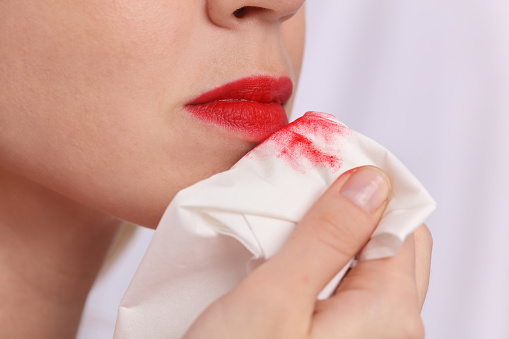 AVOID SMOKING
Smoking habit is one of the easiest ways to lose the true color of your lips. A regular smoker cannot maintain pinky lips. Once you suck the carbon monoxide from the smoke and play with it around your mouth by inhaling and exhaling the smokes, microparticles of the smoke stick on the lips cells thereby making it easy to develop dark lips within a short time. Besides that, the steady warming of the lips cells with smokes frustrates the lips cells by making the lips have a number of dead cells sticking on them. To have pink lips you must stop smoking and begin the lips treatment process.
ROSE PETALS
Do you know that a combination of Rose petals, honey, and milk cream, can give you pretty pink lips? Prepare a paste with rose petal by soaking it in raw milk then grind together. You can simply make the paste by mixing rose petal, honey, and milk cream directing and grind together. To use the paste, scrub it on your lips morning and night for about 14 days to get nice pink lips. Rose petals have a natural pink color and can be a good source of getting your lips color pinky. If you crush few rose petal and rub on your lips; the lips color becomes rosy. Repeating this process can change the lips color to that of the pink color of the rose.
STOP LEAKING YOUR LIPS
Liking your lips when it feels dry will make it become even drier unlike the belief of keeping it moist. The mouth saliva does not retain your lips moist because it even removes the existing moisture on the lips through evaporation. To maintain steady moist lips have a lips gross handy with you every time so that you can apply it on the lips any time the lips become dry.
USE TURMERIC AND MILK
Getting pink lips with turmeric and milk combination can be easy especially if you just lost your pink lips color and needs it back. Beyond that, turmeric and milk combination has been very effective in the treatment of health ailments such as cold and cough, and skincare. To get your pink lips back, make a paste of turmeric powder with cold milk in a very small quantity, let us say 1 tablespoon of turmeric and little cold milk. All you need to do is to apply the paste on your lips, leave for about five minutes, and then wash it out with warm water. Repeating this process will bring out the true color of your lips, you can stop the moment you achieve the actual type of pink lips color you desire.
APPLY MUSTARD OIL
The use of mustard oil for lips has been an ancient practice. All you need is to apply it before going to bed every night to keep your lips moist and bring out its pink color.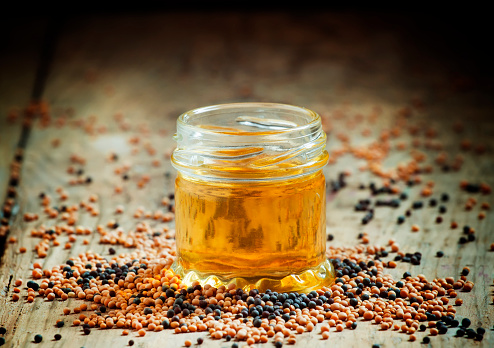 BEETROOT JUICE
Beetroot has a deep pink color naturally inside. Making a juice from beetroot gives you thick liquid with deep pink color that you can leverage to get the pink lips you desire. This option tends to give your lips the pink color you are looking for through the color of the juice rather than the true natural pink color. If you are applying the beetroot juice on your lips regularly, it tends to transfer its natural pink color to your lips after some time while doing it steadily. This option is very good if you need a quick and easy way to coat your dark lips with natural pink color from beetroot juice.
RASPBERRY LIPS MASK
Raspberry is naturally a pinky or reddish color fruit. It has a deep effect on the lips and can influence the color of the lips to look pinky. A good combination of some crushed raspberry fruits with honey and aloe Vera gel gives great results on the lips color. All you need to do is to make a liquid paste of two raspberries, 1 tablespoon Aloe Vera gel, and 1 tablespoon of honey. To use this mixture, apply it on the lips regularly. Any time you apply it, allow it to stay on the lips for five minutes and then wash it out with warm water and apply a lips moisturizer to keep the lips moist. This method give3s you fresh-looking lips with pink color.
BRUSH WITH SCRUBS
There are many lip scrubs in the market that you can use to gently clean your lips daily. However, some can have some chemical components inside. You can prepare a personal mouth scrub that is free of chemicals at home by simply mixing the following: Sugar, honey, and virgin coconut oil. The following ratio can be good; Sugar 2 tablespoon + honey 1 tablespoon + coconut oil 1 tablespoon. Massaging the mixture on your lips for about 30seconds daily and using warm water to wash it out will help to bring out the pink color of your lips.